Lenovo ThinkCentre All-In-One Desktops

Space-Saving Enterprise Desktops
With their minimal footprint, clutter free design, and professional appearance, these all-in-ones are a welcome addition to the corporate desk. They also enable serious enterprise-level productivity while meeting even the most demanding budgets.
Lenovo ThinkCentre All-In-One Desktop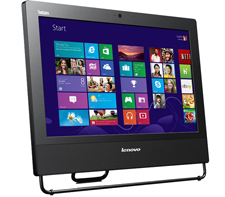 This enterprise-level 20-inch all-in-one is security- and privacy-enhanced, multitasking-capable, VoIP-optimized, and environmentally friendly — and it takes up to 80-percent less space on your desk, allowing you to concentrate on the work it helps you do.
Up to 4th Generation Intel Core™ i7
Up to Windows 8.1 Pro
Integrated Intel HD graphics
Up to 1TB HDD or 180GB SSD
Up to 16GB memory
20" LED display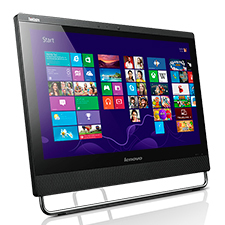 The reliable M93z all-in-one boasts the latest processers, innovative productivity features, and iron-clad security options. Add in state-of-the-art manageability features, energy management solutions, and green certifications for an ideal large-enterprise PC.
Up to 4th generation Intel Core™ i7 processor
Up to Windows 8.1 Pro
Integrated Intel HD graphics
Up to 1TB HDD or 128GB SSD
Up to 16GB memory
23" LED display with available 10-point multitouch