Lenovo ThinkCentre M83 Tiny Desktop

Enhances Performance, Lower Cost.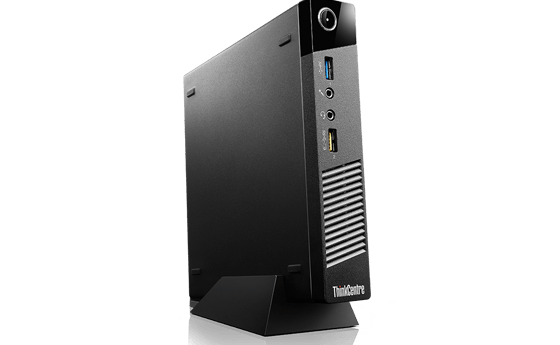 Lenovo Products
Lenovo ThinkCentre M83 Tiny Desktops

Lenovo ThinkCentre M83 Tiny Desktop Computer
- Intel Core i3 4130t 2.9GHz, 4GB DDR3, 500GB/72000, Wi-Fi, VGA + 2 DP's, Win 7 Pro 64, 3 Year Onsite
#10E9000PUS
Our Price: $600.00

Lenovo ThinkCentre M83 Tiny Desktop Computer
- Intel Core i5 4590 2GHz, 4GB DDR3, 500GB/72000, Wi-Fi, VGA + 2 DP's, Win 7 Pro 64, 3 Year Onsite
#10E9000SUS
Our Price: $671.00
Click here to jump to more pricing!
Overview:
Engineered for productivity, the space-saving Tiny desktop boasts powerful productivity features, iron-clad security enhancements, and an array of manageability options that keeps your large enterprise in the green.
4th Generation Intel Core™ Processors
Operating System: Windows 8.1 Pro 64-bit Operating System
Business Power: Designed For Ultimate Performance & Scalability
Energy Savings: Energy-Efficient, Green Design Saves You Money
Expandability: Secure & Manageable with Hassle-Free Expandability
The Lenovo ThinkCentre M83 is a premium enterprise-class desktop designed for corporate users. Equipped with the latest intel CoreTM i processor, experience faster processing and better graphics performance. Connect to four monitors efficiently via mosaic mode for more comfortable conferencing or video viewing. Finally, backed by manageability tools like intelligent Cooling Engine 3 (iCE3) and Desktop Power Manager 2.0, the M83 is a great investment.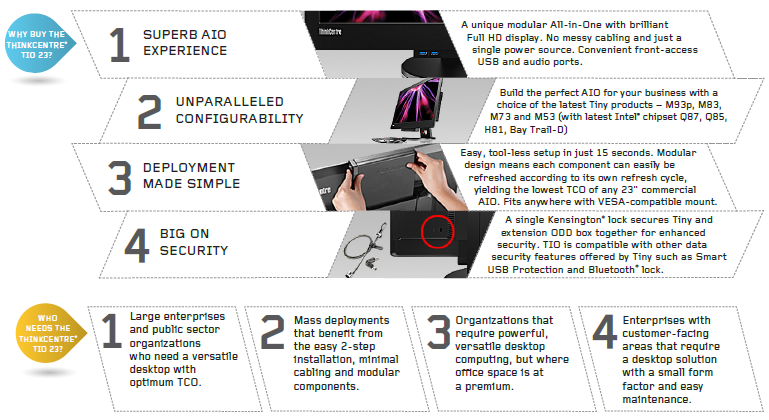 Features:
Tiny Form Factor
Our tiny desktops were the first 1L desktop in the industry. Complete with flexible mounting solutions, including support for standard VESA mounts, Tiny desktops fit just about anywhere, yet they provide a reliable, enterprise-level performance that you can depend on.
Platform Stability
The M83 desktop features Intel® Stable Image Platform Program (SIPP) and 15-month life cycle with no planned hardware changes that affect the preloaded software image. Image stability for long-term deployments helps to reduce transition, qualification, and testing costs to ensure savings for your business.
Multiple Monitor Display
Maximize productivity with independent display support for up to three monitors—or four via Mosaic Mode. The expanded work area and easier navigation between applications helps reduce errors and improve productivity as you extend your desktop across multiple monitors. (Requires second optional DisplayPort connectors.)
Solid Security & Manageability

M83 Tiny desktops include some of the best security tools available in the industry, including USB ports disablement to help prevent data theft and network security risks against unauthorized use of storage devices. Active Protection System for HDD protection. Trusted Platform Module (TPM) encrypts data and key information like passwords and digital certificates, further securing applications, electronic transactions, and online communication. Plus the M83 desktop includes an optional chassis intrusion switch, which alerts against any unauthorized access attempts. Physical security through cable lock and Computrace Support.

Advanced Thermal Design

Our Intelligent Cooling Engine (ICE) 3.0 is designed to provide a balance between thermals and acoustics, resulting in long desktop life. Choose the performance mode that best suits your work environment, prioritizing temperature or sound. Plus, ICE 3.0 allows for working in hotter temperatures and enables system monitoring with thermal alerts that preempt overheating possibilities, so you don't have to worry about business continuity.

Keyboard / Monitor Power-On

If you choose to mount this compact unit on the back of your monitor, you can still power on conveniently from the front, by simply pressing Alt+P on your keyboard. Or use the M83 Tiny with our new modular all-in-one, the Tiny-in-One 23, which lets you power on from the front of the monitor.

Plenty of Storage

The M83 includes optional second HDD (2.5 inches) and dual graphic card support. Up to three hard drives and one slim ODD supported.


Solid Security & Manageability (monitor not included)
PC Cloud Manager 3.0
Keep your PC fleet healthy and green as you effortlessly monitor and manage your desktop's health and power consumption.
Lenovo Solution Center
Lenovo Solution Center provides access to a simplified dashboard that reflects total system health. This hardware diagnostic tool allows quick access to frequently used system management tools, including backup and restore, antivirus and firewall settings, system/software updates, internet connections, and service and support. Drastically speed migration time with ThinkVantage System Migration Assistant. Spend less time manually searching for drivers and software updates with ThinkVantage System Update.
Green Leadership
Cisco EnergyWise certification enables enterprise-level power monitoring and Lenovo Desktop Power Manager puts you in control of saving energy and keeping costs down. Plus, with ratings like ENERGY STAR 5.2, ULE Gold, EPEAT® Gold, and 92% efficiency with 80+ Platinum power supply unit (PSU), you can feel good about helping the planet and your bottom line.
Views:
Lenovo ThinkCentre M83 Tiny Desktops (Click to enlarge)
| | | | |
| --- | --- | --- | --- |
| Desktops (Tiny) | Ports Zoom View | Size View | Attached Back Monitor View |
| Front View | Rear View | Attach Case Optical Drive Front View | Attach Case USB Front View |
| Attach Case Optical Drive Rear View | Attach Case USB Rear View | Rear with Antenna View | |
Specifications:
Lenovo ThinkCentre M83 Tiny Desktop
Performance
Processor
Up to Intel Core™ i7 4785T processor
Operating System
Windows 8.1 Pro 64
Windows 7 Professional 64 (available through downgrade rights from Windows 8.1 Pro)
Graphics
Integrated: Intel Integrated
Memory
2 SODIMM
Maximum 16GB up to 1600 MHz
Storage
Up to 500GB, 8GB Hybrid HDD, SATA
Up to 256GB SSD
Optical Drive
Optional slim ODD box
Physical Security
USB individual disable
Cable lock
Chassis intrusion switch
Computrace support
Design
Dimensions (W X D X H)
7.04" x 7.16" x 1.35"
Weight
2.91 lbs
Connectivity
Ports and Slots
Default : USB 3.0, 2 front, 2 rear
Additional : USB 2.0 from punch out
Ethernet
Integrated 10M / 100M / 1000M Gigabit Ethernet
Multi Monitor
Up to 3 independent monitor
Fast Charging USB
Yes
USB KB Power-on
Yes
Software
Windows 7 Preloads
OOBE with Lenovo® EULA
IE Favorites
ThinkVantage® Themes on Windows 7
Device Experience - ThinkCentre® - Lenovo® ThinkVantage® Tools
Microsoft Office 2013 V15.2 with SP1 Trail, no JP
Nitro PDF
Norton® Internet Security 2014 - 30 day trial
Intel® Small Business Advantage
Product Recovery
ThinkVantage® Rescue and Recovery® 4.5 (Ready-to-Install)
ThinkVantage® System Update 5.0
Fingerprint SW
Acrobat Reader X
Desktop Power Manager 3.2
Evernote®
Lenovo® Message Center Plus
Lenovo® Registration
Lenovo® Solution Center
Skype™
ThinkVantage® Communication Utility
Lenovo® Reach
Bluetooth® Security Lock
Lenovo® SHAREit
PCM3.0
PCM3.0 for SCCM
View Management Utility 3.0
Windows 8 Preloads
OOBE Customization
IE Favorites
ThinkVantage® Themes on Windows 8.1
Device Stage - ThinkCentre® - Lenovo® ThinkVantage®
Tools
Microsoft Office 2013 V15.2 with SP1 Trail, no JP
Nitro PDF
Norton® Internet Security 2014 - 30 day trial
Intel® Small Business Advantage
Password Manager 4.5 - (Ready-to-Install)
ThinkVantage® System Update 5.0
Fingerprint SW
Desktop Power Manager 3.2
Evernote®
Lenovo® Solution Center V2.4
Lenovo® Reach
Lenovo® SHAREit
PCM3.0
PCM3.0 for SCCM
Lenovo® Support
Lenovo® Companion
Lenovo® Solution Center
Bluetooth® Security Lock
Nitro Pro 8
Norton® Suite
Accuweather® – Not in CS preload
CyberLink – PowerDVD
CyberLink – PowerDVD Create which contains
Power2Go and Power Producer
JP – Ifilter (JP only)
Downloadable Diagnostics
Services Offerings
Lenovo offers a comprehensive portfolio of award-winning services to support and protect your ThinkCentre investment. Succeed with substance, and let Lenovo®'s Service support you all the way.
Priority Technical Support8
Makes your priority, our priority. 24x7 priority call routing to advanced-level technicians, electronic incident tracking and escalation management services.
Warranty Upgrades – Onsite And Next Business Day
Maximizes PC uptime and productivity by providing convenient, fast repair service at your place of business.
Warranty Extensions (1-to-5 Years Total Duration)
This fixed-term, fixed-cost service helps accurately budget for PC expenses, protect your valuable investment, and potentially lower the cost of ownership over time.
Keep Your Drive
Retain your drive if it should happen to fail, giving you the peace of mind to know that your valuable data is secure.
Asset Tagging
Systems come equipped with a professional, flexible asset tag based on your exact specifications. PCs are easily identifiable and trackable right out of the box.
4 TTM of Intel Core i3, Pentium and Celeron with Intel launch
5 Optional
6 Special bid only
7 The term "10/100/1000" or "Gigabit" Ethernet indicates compliance with IEEE standard 802.3ab for Gigabit Ethernet, and does not connote actual operating speed of 1 GB/s. For high-speed transmission, connection to a Gigabit Ethernet server and network infrastructure is required.
8 Not available in all regions
Pricing Notes:
Pricing and product availability subject to change without notice.
Lenovo Products
Lenovo ThinkCentre M83 Tiny Desktops

Lenovo ThinkCentre M83 Tiny Desktop Computer
- Intel Core i3 4130t 2.9GHz, 4GB DDR3, 500GB/72000, Wi-Fi, VGA + 2 DP's, Win 7 Pro 64, 3 Year Onsite
#10E9000PUS
Our Price: $600.00

Lenovo ThinkCentre M83 Tiny Desktop Computer
- Intel Core i5 4590 2GHz, 4GB DDR3, 500GB/72000, Wi-Fi, VGA + 2 DP's, Win 7 Pro 64, 3 Year Onsite
#10E9000SUS
Our Price: $671.00
Lenovo ThinkCentre M83 Desktops Accessories

Lenovo ThinkVision 23" LCD Monitor - 16:9 - 7 ms
#3028LB2
Our Price: $410.00

Lenovo Ultraslim Keyboard and Mouse
#0A34032
Our Price: $59.99