Lenovo ThinkPad T440p Laptop

Broad range of connectivity options: miniDP, VGA, USB 3.0, and SD Card Reader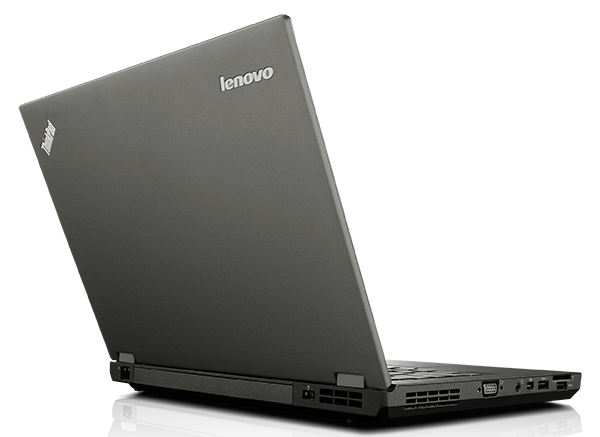 Lenovo Products
Lenovo ThinkPad T440p Laptop

Lenovo ThinkPad T440p 14" HD LED Laptop
- Intel Core i5 4200M 2.5GHz, 4GB Ram, 500GB/7200, 14" HD LED, Cam, BT, DVD-RW, 6 Cell, Win 7 Pro 64, 1 Year Depot
#20AN0069US
Our Price: $766.00

Lenovo ThinkPad T440p 14" HD+ LED Laptop
- Intel Core i5 4300M 2.6GHz, 4GB Ram, 500GB/7200, 14" HD+ LED, Cam, BT, FPR Bk Lit Key, DVD-RW, 9 Cell, Nvidia GeForce GT 730M, Win 7 Pro 64, 3 Year Depot
#20AN006NUS
Our Price: $1,171.00

Lenovo ThinkPad T440p 14" HD+ LED Laptop
- Intel Core i7 4600M 2.9GHz, 8GB Ram, 240 SSD, 14" HD+ LED, Cam, BT, FPR Bk Lit Key, DVD-RW, 9 Cell, Nvidia GeForce GT 730M, Win 7 Pro 64, 3 Year Depot
#20AN009CUS
Our Price: $1,563.00
Click here to jump to more pricing!
Overview:
14" laptop with enhanced graphics options to tackle any workload.
4th Generation Intel Core™ Processors
Operating System Windows 8.1 64-bit Operating System
Display Crisp 14" High-Res Display Options
Business Corporate Workhorse with Enhanced Graphics
Bridge Technology ThinkPad Precision Keyboard with Optional Backlight
Performance, efficiency and durability make the T440p the corporate laptop workhorse that sets the benchmark. With its award winning keyboard, Full HD display and ultralong battery life the T440p will be with you every step of the way, wherever your business takes you.
Meet the Lenovo ThinkPad T440p, an incredible performer, now at a low price point. The T440p is meant for true business-class computing, with 4th generation Intel Quad-Core processors and up to 1TB storage. With Intel vPro™, the T440p simplifies manageability and increases security across an enterprise.
Backed by MIL-SPeC durability, long-battery life, great connectivity options, and Lenovo's world-class service and support, the T440p redefines enterprise performance without compromising on mobility.
Features:
4th Generation Intel Core™ Processors

4th generation Intel Core™ processors deliver the performance to increase productivity for your business. Devices turn on in an instant and are always up-to-date with your Lenovo work laptop. You can multitask quickly and move effortlessly between applications, collaborate wirelessly in a high quality videoconference — all with the convenience of longer battery life. Plus, you can guard against identity theft and ensure safe access to your network with built-in security features. In fact, the only thing more amazing than an Intel Core processor-based PC is what your users will do with it.

Windows 8

Select a model with the new Windows 8 or Windows 8 Pro to enjoy the best of both work and play.

Precision Keyboard Enhanced for Windows 8

Full-sized and spill-resistant, the ergonomic ThinkPad keyboard is renowned for its array of keys, excellent feel and TrackPoint pointing. Optimized for Windows 8 with convenient multimedia buttons and immediate access to view apps, it has LED status indicators and function-lock capability. With a larger, smooth trackpad and 5-point click integration—indicated by subtle bumps and stripes, the keyboard can be configured multiple ways, while the optional backlight makes working in the dark effortless.

14" HD, HD+ and FHD Display

The powerful HD, HD+, and FHD display options deliver bright, crisp visuals and a wide viewing range. Anti-glare technology makes the screen comfortable to look at even over the long haul.

NVIDIA GeForce Graphics

With the NVIDIA GeForce GT 730M graphics processor, you are assured of a richer visual and faster gaming experience. You can also preview/create HD video up to 4x faster and perfect/share photos in less than half the time

Massive Storage and USB 3.0

Store data locally on your choice of a standard hard disc drive or ultrafast solid state drive. And transfer data ten times faster with two USB 3.0 ports.

Ultradurable and MIL-SPEC Tested

The T440p meets eight US military-spec tests for ruggedness, durability, and quality: high pressure, humidity, vibration, high temperature, temperature shock, low pressure (15,000 ft), low temperature, and dust. In addition, innovative roll-cage technology, a glass-fiber reinforced top and a light-weight carbon-fiber reinforced bottom add extra strength and rigidity.

Dolby Advanced Audio V2

A suite of audio technology from Dolby delivers a crisp, clear cinematic surround sound for music, movies, games, and more. Hear every detail clearly and experience the full impact of your entertainment anywhere.


Precision Keyboard Enhanced for Windows 8


NVIDIA GeForce Graphics
VGA Port
A VGA port for projector connections in conference rooms is still a business must-have, and a native VGA means no dongles to buy/lose/replace.
Views:
Lenovo ThinkPad T440p Laptop (Click to enlarge)
| | | | |
| --- | --- | --- | --- |
| Open Front View | Open Tilt View | Left View | Rear View |
| Left View | Open View | Right View | Open Flat View |
Specifications:
Lenovo ThinkPad T440p Laptop
Performance
Processor
4th Gen Intel Core™ i3-4000M (Up to 2.40 GHz, 3MB)
4th Gen Intel Core™ i5-4200M (Up to 3.10 GHz, 3MB)
4th Gen Intel Core™ i5-4300M (Up to 3.30 GHz, 3MB, L3, 1600 MHz)
4th Gen Intel Core™ i5-4330M (Up to 3.50 GHz, 3MB, L3, 1600 MHz FSB)
4th Gen Intel Core™ i7-4600M (Up to 3.60 GHz, 4MB, L3, 1600 MHz FSB)
4th Gen Intel Core™ i7-4700MQ (Up to 3.40 GHz, 6MB)
4th Gen Intel Core™ i7-4800MQ (Up to 3.70 GHz, 6MB, L3, 1600 MHz FSB)
4th Gen Intel Core™ i7-4900MQ (Up to 3.80 GHz, 8MB, L3, 1600 MHz)
Operating System
Windows 8 Pro 64-bit
Windows 8 64-bit
Windows 7 Professional 64-bit
Graphics
NVIDIA GeForce GT 730M
Intel HD Graphics 4600

Memory
4 / 8 / 12 / 16GB
Webcam
720p HD face-tracking technology, low-light sensitivity
Storage
HDD: 500GB (7200 rpm)
SSD: 128GB SSD SATA3
SSD: 256GB SSD eDrive (OPAL 2.0)
Audio
Dolby Home Theater v4
Battery
9 Cell (9.21 Ah) (57++)
6 Cell (5.2 Ah) (57+)
13+ hours
Optical Drive
DVD / CD Recordable Combo Drive
Fingerprint Reader
Yes
Navigation
TrackPoint and 5-button glass TouchPad
Design
Display
14.0" HD TN anti-glare (1366 x 768)
14.0" HD+ TN anti-glare (1600 x 900)
14.0" FHD IPS anti-glare (1920 x 1080)
Dimensions (W X D X H)
13.18" x 1.29" x 9.01"
Weight
4.7 lbs
Keyboard
ThinkPad precision keyboard (with backlight)
Software
Preloaded Applications
Amazon Kindle
NitroPDF 8.0.7.3
AccuWeather
Evernote
Lenovo Cloud Storage
Lenovo Settings
Lenovo Companion
Lenovo Support
Norton Studio
Supported LSC / LSSB
Custom image load and creation services
Asset tagging and laser etching
Upgradeable to 5-year onsite
24 hr local language support centers
Priority Technical Support upgrades
International Warranty Service models
Accidental Damage Protection – now available onsite
Keep Your Drive
Connectivity
I/O (Input / Output ports)
mini DisplayPort with Audio
VGA
2 x USB 3.0 (1 x Powered)
2 x USB 2.0
SD Card Reader
Smart Card Reader (optional)
Native RJ45 (full size)
WIFI
Intel Centrino 7260 (Wilkins Peak 2 AC) 2x2 AC+ BT 4.0
ThinkPad Wireless 2x2 BGN+BT 4.0
Intel Centrino 6235 (Jackson Peak 2 AC) 2x2 ABGN+ BT 4.0
Ethernet
RJ45
Bluetooth
Yes, 4.0 (Included with WiFi Module)
Pricing Notes:
Pricing and product availability subject to change without notice.
Lenovo Products
Lenovo ThinkPad T440p Laptop

Lenovo ThinkPad T440p 14" HD LED Laptop
- Intel Core i5 4200M 2.5GHz, 4GB Ram, 500GB/7200, 14" HD LED, Cam, BT, DVD-RW, 6 Cell, Win 7 Pro 64, 1 Year Depot
#20AN0069US
Our Price: $766.00

Lenovo ThinkPad T440p 14" HD+ LED Laptop
- Intel Core i5 4300M 2.6GHz, 4GB Ram, 500GB/7200, 14" HD+ LED, Cam, BT, FPR Bk Lit Key, DVD-RW, 9 Cell, Nvidia GeForce GT 730M, Win 7 Pro 64, 3 Year Depot
#20AN006NUS
Our Price: $1,171.00

Lenovo ThinkPad T440p 14" HD+ LED Laptop
- Intel Core i7 4600M 2.9GHz, 8GB Ram, 240 SSD, 14" HD+ LED, Cam, BT, FPR Bk Lit Key, DVD-RW, 9 Cell, Nvidia GeForce GT 730M, Win 7 Pro 64, 3 Year Depot
#20AN009CUS
Our Price: $1,563.00