Lenovo ThinkPad T440s Laptop

Go The Distance With Tough Design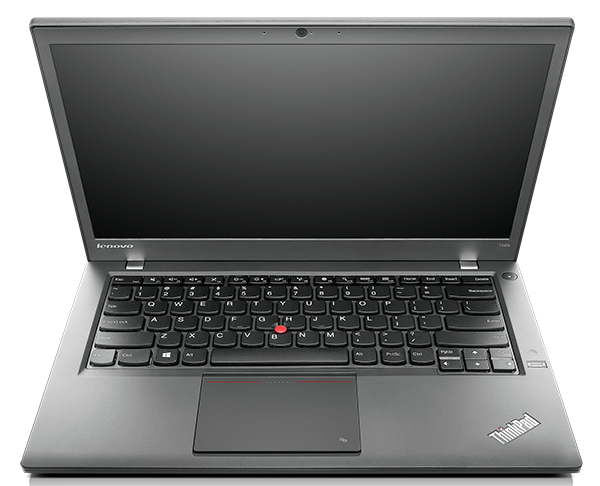 Lenovo Products
Lenovo ThinkPad T440s Laptop

Lenovo ThinkPad T440s 14" HD+ LED Ultrabook
- Intel Core i5 4200U 1.6GHz, 4GB Ram, 500GB/7200, 14" HD+ LED, Cam, BT, FPR, Cache, 3 Cell + 3 Cell, Win 7 Pro 64, 1 Year Depot
#20AQ005NUS
Our Price: $1,374.00

Lenovo ThinkPad T440s 14" HD+ LED Ultrabook
- Intel Core i5 4300U 1.9GHz, 4GB Ram, 500GB/7200, 14" HD+ LED, Cam, BT, FPR, BL Key, Cache, 3 Cell + 3 Cell, Win 7 Pro 64, 3 Year Depot
#20AQ005QUS
Our Price: $1,249.00

Lenovo ThinkPad T440s 14" HD+ LED Uptrabook
- Intel Core i5 4300U 1.9GHz, 8GB Ram, 180 SSD, 14" HD+ LED, Cam, BT, FPR, Bk Lit Key, 3 Cell + 3 Cell, Win 7 Pro 64, 3 Year Depot
#20AQ008FUS
Our Price: $1,387.00

Lenovo ThinkPad T440s 14" FHD LED Ultrabook
- Intel Core i7 4600U 2.1GHz, 8GB Ram, 256 SSD, 14" FHD LED, Cam, BT, FPR, Bk Lit Key, 3 Cell + 3 Cell, Win 7 Pro 64, 3 Year Depot
#20AQ006HUS
Our Price: $1,704.00

Lenovo ThinkPad T440s 14" FHD LED Ultrabook
- Intel Core i7 4600U 2.1GHz, 8GB Ram, 512 SSD, 14" FHD LED, Cam, BT, FPR, Bk Lit Key, 3 Cell + 3 Cell, Win 7 Pro 64, 3 Year Depot
#20AQ009HUS
Our Price: $1,861.00
Click here to jump to more pricing!
Overview:
14" ultra-slim & light laptops with uncompromising features   including optional multitouch.
Renowned Keyboard Offers Increased Comfort
Operating System Ultradurable Construction for the Long Haul
Business Slimmer Profile; Same Legendary THINK Features
Display High-Res Displays with Optional Multitouch
Bridge Technology Go Farther with NEW Power Bridge Technology
Re-engineered to deliver premium features including optional touch navigation, the ThinkPad T440s is a new generation thin and light business laptop. From its ultralong battery life to its Full HD IPS display, the T440s will drive your performance to the next level.
The Lenovo ThinkPad T440s has been designed to simplify and modernize your computing experience. The carbon fiber top cover makes the Ultrabook™ light, but durable. A wider range of connection options—mini-DisplayPort, vGA, USb and SD card reader—make viewing, sharing and transferring data easier. rounding out the experience are the latest Intel Core™ i processors and touch capability with windows 8.
Features:
More Ability; Less Bulk
Meet the ThinkPad T440s — a slimmed down version of our popular T Series line of business laptops is an uncompromising, do-all option for any business user. Enjoy a leaner, yet meaner offering than ever before.
Be Precise
Success in business requires focus, and the ThinkPad T440s offers the precision tools and power to help you maintain it. With its full-size keyboard, renowned array of keys (including convenient shortcut buttons), excellent feel, and popular TrackPoint pointing device, you'll have all you need to meet the the tightest of deadlines.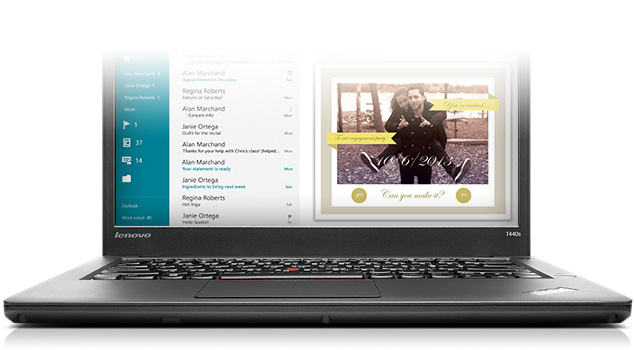 Be Mobile
The 's' could stand for just about anything, but we'll give you a few options to choose from: slim, svelte, savvy. The T440s was built with mobility in mind, but with the strict goal of offering you the same, or in some cases, better power than bulkier machines. What's more, with exclusive Power Bridge technology, you get two batteries, meaning more juice from the on-set, as well as the capability to swap batteries on the fly - without shutting down.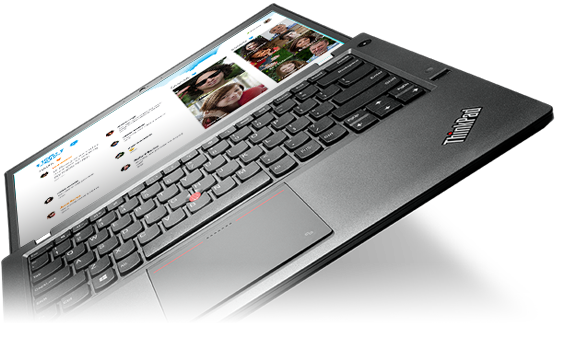 Be Functional
We all want options. The T440s provides them. Customize your display with better visuals, better viewing angles, or touch input - or a combination of the three. But rest assured, every T440s comes with an array of ports for easy connectivity between devices, and essential extras such as the integrated HD webcam for crystal-clear conferencing.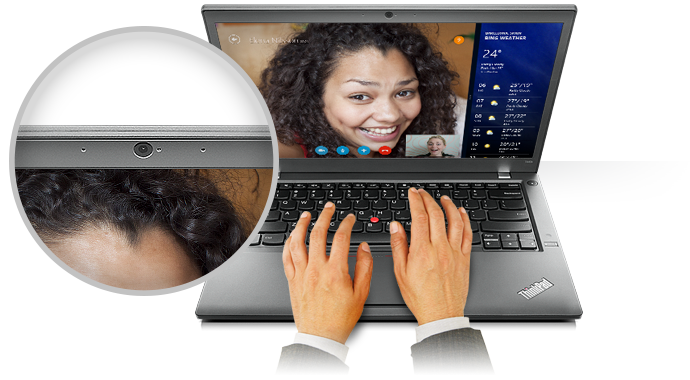 Be Reliable
The ThinkPad brand is renowned for its reliability - none more revered than the T Series. You need a machine that is reliable, so others don't steal the momentum you've worked so hard to establish. Simply put, the T440s is measured up to military standards in durability, and is one of the strongest, most reliable PCs on the planet.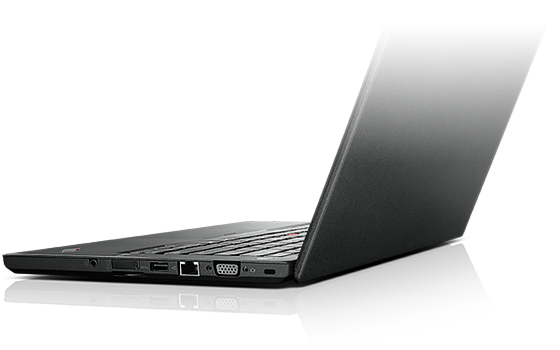 Views:
Lenovo ThinkPad T440s Laptop (Click to enlarge)
| | | |
| --- | --- | --- |
| open front view | open flat view | open left view |
Specifications:
Lenovo ThinkPad T440s Laptop
Performance
Processor
4th Gen Intel Core™ i7-4600U (4MB Cache, up to 3.30GHz)
4th Gen Intel Core™ i5-4300U (3MB Cache, up to 2.90GHz)
4th Gen Intel Core™ i5-4200U (3MB Cache, up to 2.60GHz)
Operating System
Windows 8.1 Pro 64
Windows 8.1 64
Windows 8 Pro 64
Windows 8 64
Windows 7 Professional 64
Graphics
Intel HD Graphics 4400 with docking connector
Memory
4 / 8 / 12 / 16GB
Webcam
720p HD face-tracking technology, low-light sensitivity
Storage
6GB (4GB Base / 2GB DIMM)
8GB (4GB Base / 4GB DIMM)
12GB (4GB Base / 8GB DIMM)
Audio
Dolby Home Theater v4
Battery
Integrated 3-cell Li-Polymer (23.5 Whr)
Rear: 6-cell Li-Ion (72 Whr)
Rear: 6-cell Li-Ion (47 Whr)
Rear: 3-cell Li-Polymer (23.2 Whr)
Battery Life
3 cell + 3 cell = 8.4 hours
3 cell + 6 cell (48whr) = 12.6 hours
3 cell + 6 cell (72whr) = 17.4 hours
Fingerprint Reader
Available
Navigation
TrackPoint and 5-button glass TouchPad
Design
Display
14" HD+ anti-glare (1600 x 900)
14" FHD anti-glare (1920 x 1080) with IPS technology
14" FHD Touch anti-glare (1920 x 1080)
Dimensions (W X D X H)
13.03" x 8.89" x 0.80"
Weight
3.5 lbs
Keyboard
ThinkPad precision keyboard (with backlight)
Connectivity
I/O (Input / Output ports)
(1) Mini-DisplayPort with audio
(1) VGA
(1) 3.5 mm Combo Jack Headphone/MIC
(3) USB 3.0
(1) 4-in-1 SD Card Reader (SD/SDHC/SDXC/MMC slot)
(1) Smart Card Reader (optional)
NOTE: Smart Card Reader not available on models equipped with Micro Hard Drive.
WIFI
Intel Single Band 7260BN w/ Bluetooth 4.0
Intel Dual Band 7260AN w/ Bluetooth 4.0
Intel Dual Band 7260AN w/ Bluetooth 4.0
ThinkPad 2 x 2 BGN w/ Bluetooth
Mobile Broadband
Sierra Wireless 7355 - Gobi 5000
Ethernet
RJ45
Bluetooth
Yes, 4.0 (Included with WiFi Module)
3Not available in all regions
4Select Models
*MobileMark 2012 Office Productivity benchmark test
Pricing Notes:
Pricing and product availability subject to change without notice.
Lenovo Products
Lenovo ThinkPad T440s Laptop

Lenovo ThinkPad T440s 14" HD+ LED Ultrabook
- Intel Core i5 4200U 1.6GHz, 4GB Ram, 500GB/7200, 14" HD+ LED, Cam, BT, FPR, Cache, 3 Cell + 3 Cell, Win 7 Pro 64, 1 Year Depot
#20AQ005NUS
Our Price: $1,374.00

Lenovo ThinkPad T440s 14" HD+ LED Ultrabook
- Intel Core i5 4300U 1.9GHz, 4GB Ram, 500GB/7200, 14" HD+ LED, Cam, BT, FPR, BL Key, Cache, 3 Cell + 3 Cell, Win 7 Pro 64, 3 Year Depot
#20AQ005QUS
Our Price: $1,249.00

Lenovo ThinkPad T440s 14" HD+ LED Uptrabook
- Intel Core i5 4300U 1.9GHz, 8GB Ram, 180 SSD, 14" HD+ LED, Cam, BT, FPR, Bk Lit Key, 3 Cell + 3 Cell, Win 7 Pro 64, 3 Year Depot
#20AQ008FUS
Our Price: $1,387.00

Lenovo ThinkPad T440s 14" FHD LED Ultrabook
- Intel Core i7 4600U 2.1GHz, 8GB Ram, 256 SSD, 14" FHD LED, Cam, BT, FPR, Bk Lit Key, 3 Cell + 3 Cell, Win 7 Pro 64, 3 Year Depot
#20AQ006HUS
Our Price: $1,704.00

Lenovo ThinkPad T440s 14" FHD LED Ultrabook
- Intel Core i7 4600U 2.1GHz, 8GB Ram, 512 SSD, 14" FHD LED, Cam, BT, FPR, Bk Lit Key, 3 Cell + 3 Cell, Win 7 Pro 64, 3 Year Depot
#20AQ009HUS
Our Price: $1,861.00