Lenovo ThinkPad X240 Ultrabook Laptop

Stay on the Move. Stay Light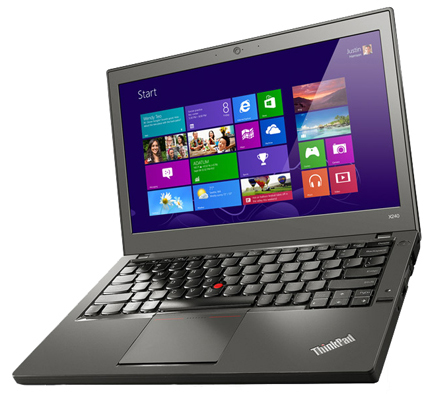 Lenovo Products
Lenovo ThinkPad X240 Ultrabook Laptop

Lenovo ThinkPad X240 Ultrabook Laptop - 12.5" HD LED
- Intel Core i5 4200U 1.6GHz, 4GB DDR3, 500GB/7200, 12.5" HD LED, Cam, BT, FPR, BL Key, Cache, 3 Cell + 3 Cell, Win 7 Pro 64, 3 Year Depot
#20AL008XUS
Our Price: $1,207.00

Lenovo ThinkPad X240 Ultrabook Laptop - 12.5" HD LED
- Intel Core i5 4300U 1.9GHz, 4GB DDR3, 500GB/7200, 12.5" HD LED, Cam, BT, FPR, BL Key, Cache, 3 Cell + 3 Cell, Win 7 Pro 64, 3 Year Depot
#20AL008YUS
Our Price: $1,278.00

Lenovo ThinkPad X240 Ultrabook Laptop - 12.5" HD LED
- Intel Core i5 4300U 1.9GHz, 8GB DDR3, 180 SSD, 12.5" HD LED, Cam, BT, FPR, BL Key, Cache, 3 Cell + 3 Cell, Win 7 Pro 64, 3 Year Depot
#20AL009EUS
Our Price: $1,559.00
Click here to jump to more pricing!
Overview:
Introducing the thinner, lighter, 12.5" Lenovo ThinkPad X240. Despite being 20 mm thin and under 3 lbs, it offers Mil-Spec durability and comes packed with the latest features like 4th generation Intel Core™ processors, vPro™ and revolutionary ThinkPad docking. The Power Bridge battery feature keeps your Ultrabook™ up and running for longer.
The X240 combines intelligent design with top-of-the-line hardware—setting new standards for those who travel light.
4th Generation Intel Core™ Processors Operating System
Windows 8.1 64-bit Operating System Display
12.5" IPS, High-Res Displays with Optional Multitouch Bridge Technology
Go Farther with NEW Power Bridge Technology Ultrabook
Uncompromisingly Slim & Compact Design
The Ultimate Ultraportable
20.3 mm (0.79") thick and weighing under 1.36 kg (3 lbs)
All-day-long Battery Life
The Power Bridge battery feature keeps your system running for longer (Up to 17.4 hr)
Business-Ready Ultrabook
Comes with 4th generation Intel Core™ processors with vPro™ and all the necessary ports to meet your day-to-day work demands
ThinkPad Precision Backlit Keyboard
Backlit keyboard, now with Windows 8 function keys, for a better user experience
Features:
Ultrathin and Ultralight

The X240 long battery life laptop is the thinnest and lightest ThinkPad laptop we offer. Weighing in at less than 3 lbs and measuring 0.8 inches at its thickest point, the X240 is ultraportable — without sacrificing anything in terms of laptop battery life, ports, connectivity, or durability.

Award-Winning Keyboard Further Enhanced for Windows 8

Full-sized and spill-resistant, the legendary ThinkPad ergonomic keyboard is renowned for its full array of keys, excellent feel, and TrackPoint® pointing device. And now it's optimized for Windows 8 with convenient multimedia buttons, LED status indicators, Function-lock capability, and immediate access to view apps. Plus, a larger, smooth TrackPad with 5-point click integration — indicated by subtle bumps and stripes — can be configured multiple ways through Settings. Optional backlight makes working in dark environments effortless.

4th Generation Intel Core™ Processors

4th generation Intel Core™ processors deliver the performance to increase productivity for your business. Devices turn on in an instant and are always up-to-date. You can multitask quickly and move effortlessly between applications, collaborate wirelessly in a high quality videoconference — all with the convenience of longer battery life. Plus, you can guard against identity theft and ensure safe access to your network with built-in security features. In fact, the only thing more amazing than an Intel Core processor-based PC is what your users will do with it.

Intel vPro Technology

Makes enterprise-level manageability even more convenient and cost-saving. Manage, protect, repair, or locate your deployed laptops from anywhere in the world.

HD Display With Available IPS Technology

In-Plane Switching (IPS) LCD displays with high brightness. IPS technology allows for vivid colors and nearly 180-degree viewing angles.

Power Bridge Technology

Combining an internal battery with an external hot-swappable battery, Power Bridge provides flexibility and maximum laptop battery life. Swap batteries without powering down your laptop, using an extra travel battery to increase your time between charges to 10 hours or more.

Ultradurable Construction & MIL-SPEC Tested

Innovative roll-cage technology adds extra strength and rigidity to the notebook shell and top cover (carbon fiber top with magnesium bottom for maximum strength without adding weight). Military-specification testing validates the ruggedness, durability, and quality of ThinkPad products by testing against eight parameters: high pressure, humidity, vibration, high temperature, temperature shock, low pressure (15,000 ft), low temperature, and dust.

VGA Port

Many customers still require a VGA port for projector connections in conference rooms, and native VGA means no dongles for them to buy/lose/replace.

Available Capacitive Touch Panel

A capacitive touch panel allows for impeccable response time to 10-finger touch. Actions trigger immediately, and the cursors follow your fingers around the screen without any perceptible lag or delays.


Award-Winning Keyboard Further Enhanced for Windows 8


HD Display With Available IPS Technology
Fast Data Transfer
Move data between the X240 and other devices quickly with USB 3.0 — it's up to 10 times faster than previous USB technologies and backward-compatible with USB 2.0.
Views:
Lenovo ThinkPad X240 Ultrabook Laptop (Click to enlarge)
| | | | |
| --- | --- | --- | --- |
| Front View | Keyboard View | Webcam View | Rear View |
| Left Ports Zoom View | Right Ports Zoom View | | |
Specifications:
Lenovo ThinkPad X240 Ultrabook Laptop
Performance
Processor
Intel Core™ i7-4600U (Up to 3.00 GHz, 3MB L3, 1600 MHz FSB)
Intel Core™ i5-4300U (Up to 3.00 GHz, 3MB L3, 1600 MHz FSB)
Intel Core™ i5-4200U (Up to 2.60 GHz, 3MB L3, 1600 MHz FSB)
Intel Core™ i3-4010U (Up to 1.70 GHz, 3MB L3, 1600 MHz FSB)
Operating System
Windows 8.1 Pro 64
Windows 8.1 64
Windows 7 Professional 64
Graphics
Intel HD4400 Graphics
Memory
Up to 8GB DIMM
Webcam
Face-tracking technology, low light sensitive
Storage
HDD: 500GB / 1TB (5400 rpm)
HDD: 500GB (7200 rpm)
SSD: 128GB / 256GB SSD SATA3
mSATA: 16GB
Battery
3-Cell Internal (23.2 Wh)
3-Cell External (23.2 Wh)
6-Cell External Cylindrical (72 Wh)
Optical Drive
N/A
Navigation
TrackPoint with trackpad
Design
Display
12.5" HD (1366 x 768)
12.5" HD IPS (1366 x 768)
12.5" FHD IPS (1920 x 1080) with Multitouch
Dimensions (W X D X H)
12.02" x 8.19" x 0.79"
Weight
<3 lbs
Keyboard
ThinkPad Precision Backlit Keyboard
Software
Preloaded Applications
Lenovo Companion
Lenovo Cloud Storage
Lenovo Settings
Lenovo Support
Intel AppUp
AccuWeather
Amazon Kindle
Evernote
Security
Rara-Music
Lenovo Solutions Center
Connectivity
I/O (Input / Output ports)
Mini DisplayPort with audio
VGA
3.5 mm Combo Jack Headphone / MIC
2x USB 3.0 (Always-on USB 3.0)
4-in-1 SD card reader (SD / SDHC / SDXC / MMC slot)
Smart card reader
WIMAX / WIFI
Intel Centrino 7260 2 x 2 BGN + BT 4.0
Intel Centrino 7260 2 x 2 AC+ BT 4.0
Ethernet
Yes
Bluetooth
Optional
Pricing Notes:
Pricing and product availability subject to change without notice.
Lenovo Products
Lenovo ThinkPad X240 Ultrabook Laptop

Lenovo ThinkPad X240 Ultrabook Laptop - 12.5" HD LED
- Intel Core i5 4200U 1.6GHz, 4GB DDR3, 500GB/7200, 12.5" HD LED, Cam, BT, FPR, BL Key, Cache, 3 Cell + 3 Cell, Win 7 Pro 64, 3 Year Depot
#20AL008XUS
Our Price: $1,207.00

Lenovo ThinkPad X240 Ultrabook Laptop - 12.5" HD LED
- Intel Core i5 4300U 1.9GHz, 4GB DDR3, 500GB/7200, 12.5" HD LED, Cam, BT, FPR, BL Key, Cache, 3 Cell + 3 Cell, Win 7 Pro 64, 3 Year Depot
#20AL008YUS
Our Price: $1,278.00

Lenovo ThinkPad X240 Ultrabook Laptop - 12.5" HD LED
- Intel Core i5 4300U 1.9GHz, 8GB DDR3, 180 SSD, 12.5" HD LED, Cam, BT, FPR, BL Key, Cache, 3 Cell + 3 Cell, Win 7 Pro 64, 3 Year Depot
#20AL009EUS
Our Price: $1,559.00