Lenovo ThinkServer TD350 Tower Server

Compact Yet Uncompromising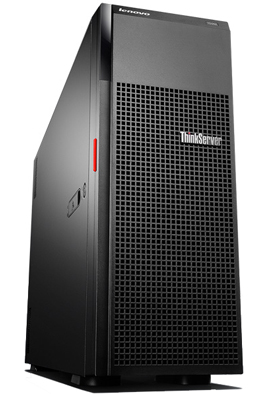 Sorry, this product is no longer available, please contact us for a replacement.
Click here to jump to more pricing!
Overview:
The ThinkServer TD350 provides full enterprise capacity and performance in a compact 4U, dual-processor tower server that's packed with the power of Intel Xeon processing technology.
Intel Xeon™ E5 Series Processors
Windows Server 2012 R2 Platform
Tower Server with Optional Dual-Processors
New Compact Design with Full Enterprise Capability
Expansive, Powerful & Easy-to-Manage
The ThinkServer TD350 combines the latest Intel Xeon performance, with legendary Think quality and excellent systems management capabilities to deliver a high performance, maximum storage density design, great for SMB, mid-market and remote offices. TD350 is a dual-socket tower server providing full enterprise capabilities in a 4U tower form factor. With up to 32 processor cores and 90 TB of storage, the TD350 is ideal for SMB and large enterprise applications. A complete portfolio of systems management tools increases uptime and productivity while keeping costs low. Enhanced hardware monitoring, alerts and diagnostics combined with integrated provisioning and deployment tools make TD350 the ultimate solution for any environment. Think Enterprise Engineered for maximum performance and storage capacity, ideal for small and medium business Use case - SMB IT infrastructure, retail, branch offices Workloads - File, Print, Web, Email, Collaboration, Virtualization, Distributed database Think Flexible Choice of high-speed I/O including advanced RAID adapters, 10Gb or 40Gb Ethernet and Fibre Channel HBAs Ultimate reliability, availability and serviceability (RAS) features with hot swap and redundant components Titanium and Platinum certified PSUs for maximum efficiency Think Ahead Scalable, modular design to grow with your business Optimized for maximum price/performance in a high density 4U form factor New systems management for faster, simplified deployment.
Features:
Right-Sized Computing for Optimal Performance
The ThinkServer TD350 allows you to balance high performance and massive storage capacity without the need to invest in a rack infrastructure. This next-generation tower packs nearly three times the memory capacity of TD340, up to 512 GB DDR4, and an unprecedented twice the increase in storage capacity, up to 90 TB. With innovative engineering, this 4U tower server offers 25 percent more hard disk drives per 1U versus the competition, including faster file transfers and IOPs performance. Plus, two additional enterprise-class M.2 solid-state drives are available as an internal option for secure booting. All of these features, ultimately, translate to better value for your business!
Compatible in any Environment
Remote access and open industry standards mean ThinkServer TD350 is an ideal tower server for any environment—whether it's needed in tower form for front office or rack-mounted for growing data center use. Operate your existing management tools or try ours at no additional cost! The design is ENERGY STAR-compliant, offers high-efficiency PSU options to lower operating expenses, and boasts continuous operation at 45 degrees Celsius without any time restrictions and with no impact on reliability. Plus, with easy setup and whisper-quiet acoustics at just 37 decibels, the TD350 immediately and quietly delivers all the power of an enterprise rack server in the compact footprint of a tower.
Designed to Scale With Your Business
Configuration flexibility makes TD350 highly adaptable. Internal expandability allows it to grow with your business demands over time, so you get excellent investment protection—better total cost of ownership and better return on investment. Installation and upgrade are a cynch with tool-less access to 95 percent of all customer replaceable parts. Grow from 5 non-hot-swap SATA drives and 2 built-in NIC ports to 32 hot-swap drives, hardware RAID, and multiple 10 Gb NIC ports in a snap. Your small business can initially invest in TD350 to support simple file/print with applicable hosting, and then easily scale to support more complex business analytics and large databases.
Views:
Lenovo ThinkServer TD350 (Click to enlarge)
| | | | |
| --- | --- | --- | --- |
| Back View | Front Right View | Front View | Open (16-Bay) View |
| Front Detail View | Open (15-Bay) View | Front Detail View | Inside View |
| Inside Top Detail View | Inside Bottom Deatil View | | |
Specifications:
Lenovo ThinkServer TD350
Performance
Processor
Up to Intel Xeon E5-2650 v3 Processor
Operating System Supported
Microsoft Windows Server 2012 R2
Microsoft Windows Server 2012 R2 Datacenter
Memory
Up to 512 GB DDR4 – 2133 MHz via 16 slots (RDIMM/LRDIMM)
Maximum Internal Storage
Up to 90 TB 3.5" chassis or up to 38.4 TB 2.5" chassis;
M.2 SSD and SD card options available
Power supply
Redundant hot-swap
550W/750W/1100W (80 PLUS Platinum), 110V to 240V AC Input
750W (80 PLUS Titanium), 200V to 240V AC Input
RAID Support
ThinkServer RAID 110i AnyRAID (0/1/10, optional 5)
ThinkServer RAID 510i AnyRAID Adapter (0/1/10, optional 5)
ThinkServer RAID 720i AnyRAID Adapter (0/1/10/5/50/6/60)
ThinkServer RAID720ix AnyRAID Adapter (0/1/10/5/50/6/60)
Systems Management
ThinkServer System Manager
Optional ThinkServer System Manager Premium
Design
Form Factor/Height
4U Tower (Rail kit optional)
Media Bays
Up to 2
Disk Bays
Up to 15 x 3.5" or
Up to 32 x 2.5"
Cooling
4 Redundant hot-swap fans
Dimensions (W X D X H)
9.9" x 18.1" x 27.0"
Weight
Starting at 48.5 lbs
Connectivity
Network Interface
2 x Intergrated Gb Ethernet + Dedicated management port
Expansion Slots
2 x PCIe Gen3: FH/FL x16
5 x PCIe Gen3: FH/FL x8
Services Offerings
Choose among a comprehensive portfolio of services optimized to support and protect your ThinkServer investment. Specify response time, duration, and optional features to meet your business needs and your budget.
Priority Technical Support
Provides 24 x 7 direct access to advanced-level technicians.
Extended Warranties
Offer fixed-term, fixed-cost protection to help you budget for server expenses for up to five years, to help lower TCO.
Upgraded Warranties
Maximize uptime and productivity with convenient, same-day repair service at your place of business.
Pricing Notes:
Pricing and product availability subject to change without notice.