Lenovo ThinkPad X1 Carbon Ultrabook Laptop (3rd Gen)

The World's Lightest 14" Ultrabook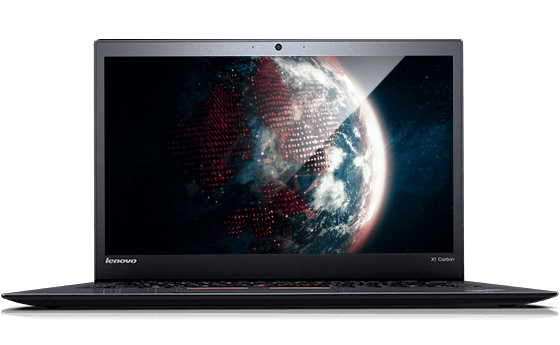 Lenovo Products
Lenovo ThinkPad X1 Carbon Ultrabook Laptop

Lenovo ThinkPad X1 Carbon Ultrabook Laptop - 14" HD+ LED
- Intel Core i5 4200U 1.6GHz, 4GB DDR3, 128 SSD, 14" HD+ LED, Cam, BT, FPR, Bk Lit Key, Cache, 8 Cell, Win 7 Pro 64, 3 Year Depot
#20A7002FUS
Our Price: $1,225.00

Lenovo ThinkPad X1 Carbon Ultrabook Laptop - 14" HD+ LED
- Intel Core i5 4300U 1.9GHz, 4GB DDR3, 180 SSD, 14" HD+ LED, Cam, BT, FPR, Bk Lit Key, Cache, 8 Cell, Win 7 Pro 64, 3 Year Depot
#20A7002JUS
Our Price: $1,444.00

Lenovo ThinkPad X1 Carbon Ultrabook Laptop - 14" HD+ LED
- Intel Core i7 4600U 2.1GHz, 8GB DDR3, 256 SSD, 14" HD+ LED, Cam, BT, FPR, Bk Lit Key, Cache, 8 Cell, Win 7 Pro 64, 3 Year Depot
#20A7002QUS
Our Price: $1,880.00

Lenovo ThinkPad X1 Carbon Ultrabook Laptop - 14" WQHD TouchScreen
- Intel Core i7 4600U 2.1GHz, 8GB DDR3, 256 SSD, 14" WQHD TouchScreen, Cam, BT, FPR, Bk Lit Key, Cache, 8 Cell, Win 8.1 Pro 64, 3 Year Depot
#20A70037US
Our Price: $2,090.00

Lenovo ThinkPad X1 Carbon Ultrabook Laptop - 14" WQHD TouchScreen
- Intel Core i7 4600U 2.1GHz, 8GB DDR3, 512 SSD, 14" WQHD TouchScreen, Cam, BT, FPR, Bk Lit Key, Cache, 8 Cell, Win 8.1 Pro 64, 3 Year Depot
#20A7006VUS
Our Price: $2,224.00
Click here to jump to more pricing!
Overview:
The lightest 14" Ultrabook in the world also gives you powerful performance and a fully-customizable interactive experience, including touch, voice and gesture control. The unique Adaptive Keyboard makes you more productive, and you'll love the stunning WQHD display, long battery life, broad SSD offering and much more. It's the ultimate Ultrabook experience.
Thin, Light & Durable Carbon-Fiber Construction
Multitouch & Premium Display Options
Long Battery Life Plus RapidCharge Technology
Faster & More Efficient Storage Options
Robust Business & Security Features
Get it all with the ThinkPad X1 Carbon Ultrabook™ –sleek but rugged, powerful but lightweight–it's the perfect campus companion.
At less than 3 lbs. and just 13mm thin, the ThinkPad X1 Carbon is thinner and lighter than ever. Made with a tough carbon fiber roll cage, the ThinkPad X1 Carbon Ultrabook™ delivers the reliability and performance you need along with innovative real world productivity you'd never expect.
Interactive Learning
Enjoy an immersive and engaging interactive experience with the stunning touch-capable WQHD (2560×1440) ColorBurst Display, an Adaptive Keyboard that updates automatically for new apps, and voice and gesture control for pitch-perfect class presentations.
Drive better distance learning and collaboration with 1.3MP webcam, microphones with smart noise canceling technology, and Dolby Home Theater v4 surround sound.
In a world where learning is not confined to the lecture hall, the ThinkPad X1 Carbon Ultrabook™ provides robust performance, durability and security in a thin and light package to power learning anywhere on campus.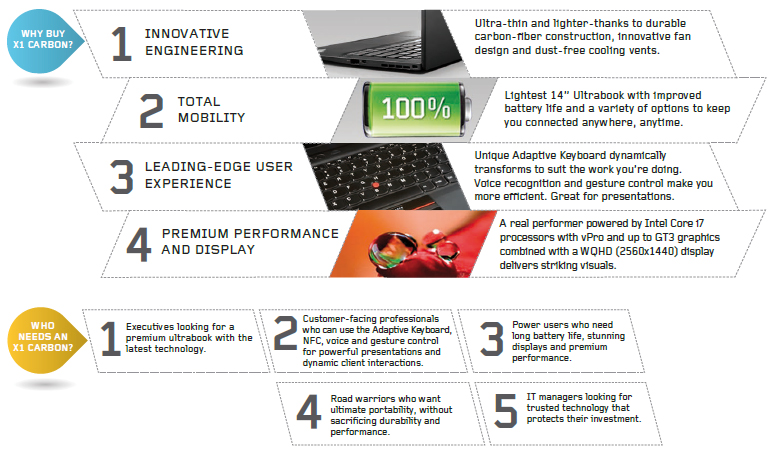 Features:
A Smarter Way to Work
Introducing the New X1 Carbon — our third iteration of the popular Carbon Series incorporates feedback from users — like you. We've taken the best of the past, and incorporated essential technologies of today to bring you a system with legendary usability and uncompromising performance.
Go Lighter
Without saying too much, it's simply the thinnest ThinkPad ever built. But don't let its ultra-slim profile fool you — the ThinkPad X1 Carbon is one of the most powerful fighters in its lightweight class.

Go Brighter
With the New X1 Carbon, you're getting a stunning QHD display featuring practical anti-glare technology for crisper text and brighter images - so you can work longer, and focus better, without the eye strain. And, with optional multitouch technology, you'll discover new and more intuitive ways to interact with your device.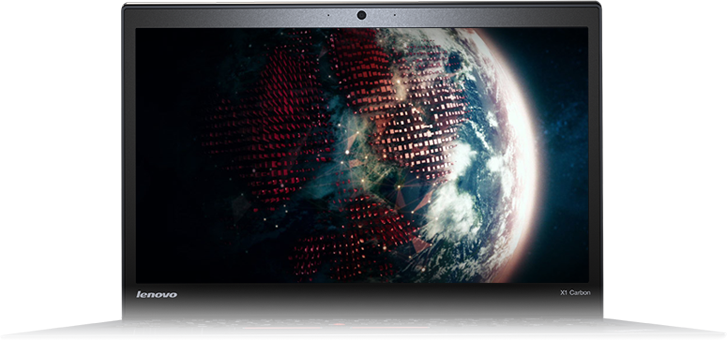 Go Longer
You don't have time to stop for a charge between all those back-to-back meetings, and we've kicked up the battery life on this year's model to help make sure you don't have to. But when you do finally run low, those pit stops will be brief with the X1 Carbon's exclusive RapidCharge battery technology.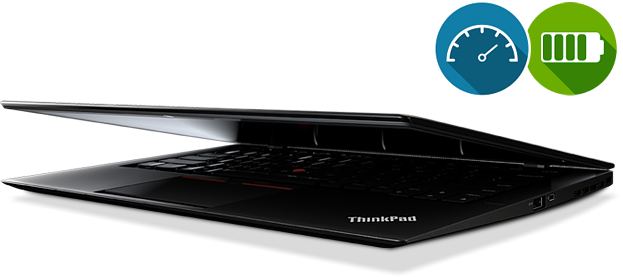 Go Stronger
From plane to car, bike to office - let's just say that however you get around, the X1 Carbon was built to withstand the rigors of even the most strenuous travel plans, and fit where you need it.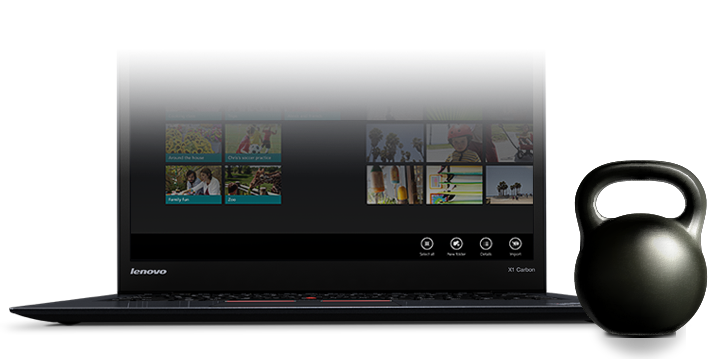 Views:
Lenovo ThinkPad X1 Carbon Ultrabook (Click to enlarge)
| | | | |
| --- | --- | --- | --- |
| Front View | Open Side View | Keyboard View | Keyboard Zoom View |
| Keyboard Angle View | Ports Zoom View | Right and Left Sides View | Front and Rear View |
Specifications:
Lenovo ThinkPad X1 Carbon Ultrabook
Performance
Processor
Up to Intel Core™ i7-5600U Processor (4M Cache, Up to 3.20 GHz)
Operating System
Windows 8.1 (64 bit)
Windows 8.1 Pro (64 bit)
Windows 7 Professional (64 bit) preinstalled through downgrade rights in Windows 8.1 Pro 64
Graphics
Intel HD Graphics 5000
Memory
4GB DDR3L-12800 1600 MHz Memory
8GB DDR3L-12800 1600 MHz Memory
Webcam
1.3MP - 720P with mute function
Storage
Up to 512GB SSD
Audio
Digital Dual Array Microphone certified for Microsoft Lync
Battery
Up to 10.9 hours MM12 (50 Wh)
Design
Display
14" FHD TN (1920 x 1080) (300 nit)
14" WQHD+ (2560 x 1440) (300 nit)
14" WQHD+ (2560 x 1440) Touch Screen (270 nit)
Dimensions (W X D X H)
WQHD: 331.0 mm x 226.5 mm x 13.2 mm (Front)-19.42mm (Rear), (13.03" x 8.91" x 0.52"(Front) - 0.76" (Rear)
WQHD Touch: 331.0 mm x 227.1 mm x 13.9 mm (Front) -20.15mm (Rear), (13.03" x 8.94" x 0.55" (Front)- 0.79" (Rear)
Weight
Starting at 2.877 lbs
Keyboard
Backlit 6-row Keyboard
Software
Lenovo Developed Apps
Lenovo Companion
Lenovo Settings
Lenovo Support
QuickCast
QuickDisplay
QuickControl
Connectivity
I/O (Input / Output ports)
2 USB 3.0 ports, Headphone/Mic Combo, OneLink Dock port, HDMI, Mini DP, Ethernet extension connection
WLAN
Intel 7265 (2x2) AC with Bluetooth 4.0
NFC
Yes, optional
Ethernet
Native RJ45 using Ethernet Connector or USB emulation
Green Certification
Green Certification
Energy Star 6.0
EPEAT Gold
ULE Gold
85% PCC
CEE Tier 1
Pricing Notes:
Pricing and product availability subject to change without notice.
Lenovo Products
Lenovo ThinkPad X1 Carbon Ultrabook Laptop

Lenovo ThinkPad X1 Carbon Ultrabook Laptop - 14" HD+ LED
- Intel Core i5 4200U 1.6GHz, 4GB DDR3, 128 SSD, 14" HD+ LED, Cam, BT, FPR, Bk Lit Key, Cache, 8 Cell, Win 7 Pro 64, 3 Year Depot
#20A7002FUS
Our Price: $1,225.00

Lenovo ThinkPad X1 Carbon Ultrabook Laptop - 14" HD+ LED
- Intel Core i5 4300U 1.9GHz, 4GB DDR3, 180 SSD, 14" HD+ LED, Cam, BT, FPR, Bk Lit Key, Cache, 8 Cell, Win 7 Pro 64, 3 Year Depot
#20A7002JUS
Our Price: $1,444.00

Lenovo ThinkPad X1 Carbon Ultrabook Laptop - 14" HD+ LED
- Intel Core i7 4600U 2.1GHz, 8GB DDR3, 256 SSD, 14" HD+ LED, Cam, BT, FPR, Bk Lit Key, Cache, 8 Cell, Win 7 Pro 64, 3 Year Depot
#20A7002QUS
Our Price: $1,880.00

Lenovo ThinkPad X1 Carbon Ultrabook Laptop - 14" WQHD TouchScreen
- Intel Core i7 4600U 2.1GHz, 8GB DDR3, 256 SSD, 14" WQHD TouchScreen, Cam, BT, FPR, Bk Lit Key, Cache, 8 Cell, Win 8.1 Pro 64, 3 Year Depot
#20A70037US
Our Price: $2,090.00

Lenovo ThinkPad X1 Carbon Ultrabook Laptop - 14" WQHD TouchScreen
- Intel Core i7 4600U 2.1GHz, 8GB DDR3, 512 SSD, 14" WQHD TouchScreen, Cam, BT, FPR, Bk Lit Key, Cache, 8 Cell, Win 8.1 Pro 64, 3 Year Depot
#20A7006VUS
Our Price: $2,224.00