Lenovo ThinkPad Yoga Ultrabook/Tablet

4 Modes For 4 Times The Productivity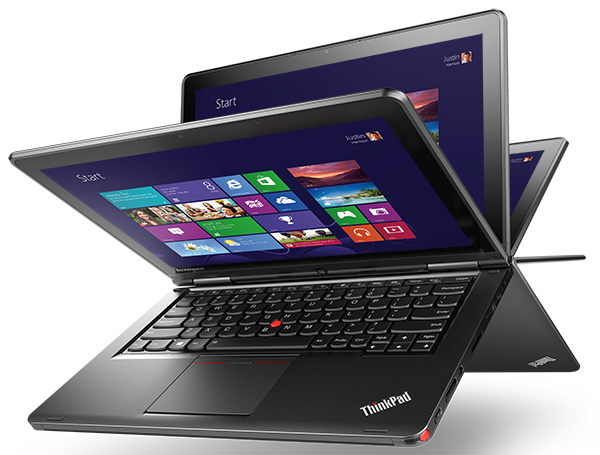 Lenovo Products
Lenovo ThinkPad Yoga
Lenovo ThinkPad Yoga Ultrabook/Tablet - 12.5" HD Touch"
- Intel Core i3 4010U 1.7GHz, 4GB Ram, 500GB/7200, 12.5" HD Touchscreen, Cam, BT, BL Key, Cache, 8 Cell, Win 8.1 Pro 64, 1 Year Depot
#20CD00CGUS
Our Price: $1,015.00
Lenovo ThinkPad Yoga Ultrabook/Tablet - 12.5" HD Touch"
- Intel Core i5 4200U 1.6GHz, 4GB Ram, 500GB/7200, 12.5" HD Touchscreen, Cam, BT, BL Key, Cache, 8 Cell, Win 8.1 Pro 64, 1 Year Depot
#20CD00CHUS
Our Price: $1,099.00
Lenovo ThinkPad Yoga Ultrabook/Tablet - 12.5" FHD Touch"
- Intel Core i5 4300U 1.9GHz, 4GB Ram, 500GB/7200, 12.5" FHD Touchscreen, Cam, BT, Digitizer Pen, Cache, Bk Lit Key, 8 Cell, Win 8.1 Pro 64, 1 Year Depot
#20CD00BXUS
Our Price: $1,266.00
Lenovo ThinkPad Yoga Ultrabook/Tablet - 12.5" FHD Touch"
- Intel Core i5 4300U 1.9GHz, 4GB Ram, 180 SSD, 12.5" FHD Touchscreen, Cam, BT, Digitizer Pen, Cache, Bk Lit Key, 8 Cell, Win 8.1 Pro 64, 1 Year Depot
#20CD00AVUS
Our Price: $1,345.00
Lenovo ThinkPad Yoga Ultrabook/Tablet - 12.5" FHD Touch"
- Intel Core i7 4600U 2.1GHz, 8GB Ram, 256 SSD , 12.5" FHD Touchscreen, Cam, BT, Digitizer Pen, Cache, Bk Lit Key, 8 Cell, Win 8.1 Pro 64, 1 Year Depot
#20CD00B1US
Our Price: $1,699.00
Click here to jump to more pricing!
Overview:
12.5" 2-in-1 business notebook with four different usage modes – Laptop, Stand, Tent, and Tablet.
Uncompromisingly Efficient, Yet Incredibly Mobile
Display Full-HD Touch Display Rotates 360 Degrees
Business PowerTackle Business Your Way with Four Usage Modes
Operating SystemPen Input for Note-Taking or Precision Navigation
Ultrabook Legendary THINK Reliability & Business Features
The ThinkPad Yoga delivers flexibility for business. It's 12.5" display rotates 360 degrees to offer four different usage modes: Laptop, Tablet, Tent, and Stand. Boasting legendary ThinkPad reliability and a range of business and security features, it's the ultimate multimode business Ultrabook.
Different situations require different devices. Be it in a boardroom, a car, an office or a cafe, choose a mode and find your comfort zone. From laptop mode to stand mode and tent mode to tablet mode, the ThinkPad Yoga flips around 360o, this calls for a unique keyboard design. Lenovo's patented Lift and Lock system disables the keyboard in the tablet or stand mode, facilitating uninterrupted usage. With a pre-loaded Intel SBA platform, it allows you to manage security better and ensure business continuity. All in all, it's a convertible Ultrabook™ primed for business.
Features:
Four Modes for the Professional World
Easily change between four modes – Laptop, Stand, Tablet, and Tent – while your system automatically switches system settings and locks the keyboard in place. The secret: ThinkPad Yoga's unique design and touchscreen display allows the screen to flip around 360 degrees, which means you can select the mode you use based on what you choose to do.
On The Go
With an included digitizer pen for taking notes on-the-fly, a long-life battery, rock-solid durability and InstantResume functionality, the ThinkPad Yoga keeps you on the move and productive in-between appointments. What's more, at just 0.75" thick and 3.5 lbs., the Yoga's minimalist 12.5" frame can be tossed into any bag and hauled anywhere, without added constraint.

At The Office
The ThinkPad Yoga quickly adapts from mobile companion to all-out business PC. From its legendary ThinkPad productivity tools such as the little red TrackPoint navigation tool and industry-leading keyboard, to its robust, Intel-backed processing power, the ThinkPad Yoga cuts no corners where productivity is concerned.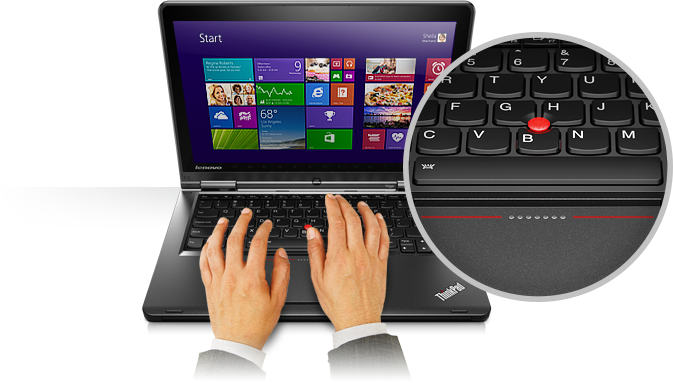 On Task
The ThinkPad name is one that is not freely given, it is earned. This iteration of the Yoga has been finely crafted to live up to those who have come before it. It features the durability and reliability your expect from the ThinkPad name – with such features as a durable magnesium-alloy frame, heavy-duty, scratch and smudge-resistant Corning® Gorilla Glass display, and an Active Protection System which locks and protects your HDD when it detects sudden movements.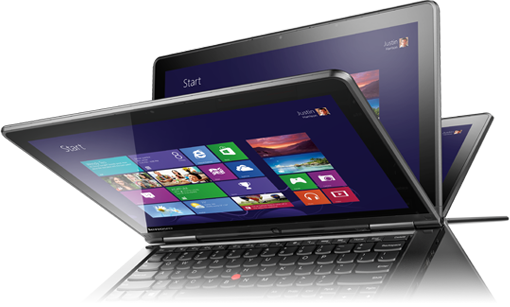 At Play
Ready for some downtime? The ThinkPad Yoga is hard-worker, but it can play hard too. Flip it into Stand mode and play and browse through the Windows 8 touch experience. Or, flip it to Tent mode to enjoy a movie on those long flights between destinations.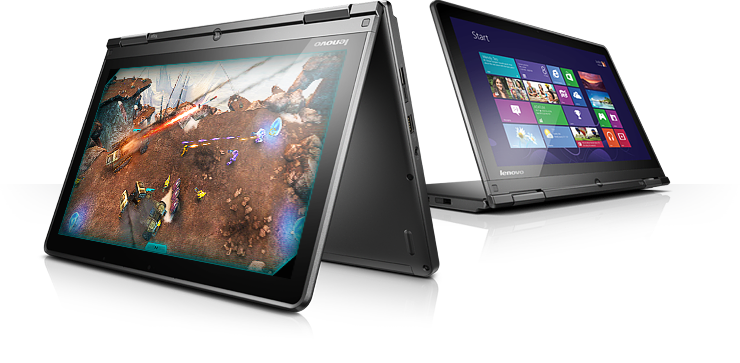 Views:
Lenovo ThinkPad Yoga (Click to enlarge)
| | | | |
| --- | --- | --- | --- |
| Open Laptop View | Closed View | Open Laptop Right View | Tablet View |
| Tablet With Pen View | Open To Tablet View | Open Flat Side View | Tablet With Pen View |
| Tablet Keyboard View | Open Laptop Flat View | Tablet View | |
Specifications:
Lenovo ThinkPad Yoga
Performance
Processor
4th Gen Intel Core™ i7-4600U (4MB Cache, up to 3.30GHz)
4th Gen Intel Core™ i7-4500U (4MB Cache, up to 3.00GHz)
4th Gen Intel Core™ i5-4300U (3MB Cache, up to 2.90GHz)
4th Gen Intel Core™ i5-4200U (3MB Cache, up to 2.60GHz)
4th Gen Intel Core™ i3-4010U (3MB Cache, up to 1.70GHz)
Operating System
Windows 8.1 Pro 64
Windows 8.1 64
Graphics
Intel HD Graphics 4400
Memory
4GB PC3-12800 DDR3L SDRAM 1600 MHz Memory
Webcam
720p HD
Storage
SSD (SATA 3): 128GB, 180GB (Opal), 256GB SSD
Audio
Dolby Home Theater v4
Enhanced audio for VOIP
Battery
Up to 8 hours – MM2012, dependant upon configuration
Navigation
TrackPoint and 5-button clickpad
Design
Display
12.5" FHD IPS (1920 x 1080) 400 nits 10-finger multitouch display
Dimensions (W X D X H)
12.46" x 8.70" x 0.74"-0.76"
Weight
3.52 lbs
Keyboard
Lift 'n' Lock backlit Keyboard
Software
Preloaded Applications - Lenovo Developed Apps
Lenovo QuickControl - V 1.10, Lenovo Auto Scroll Package
Lenovo Settings – Metro - for Windows 8.1, Thinkvantage Active Protection system
Lenovo Base Utility Package, ThinkPad Monitor File
Lenovo Companion – Metro - V 1.2, Lenovo Experience Center – V 1.0
Lenovo Solution Center – V 2.1, Lenovo Support – Metro - V 1.2
Device Stage – Lenovo Thinkvantage Tools - V 4.0
Password Manager 4.2, RapidBoot HDD Accelerator
Thinkvantage System Update V5.02 (with 1st boot – Call to TVSU)
StartPin Config (Thinkpad Edge S Touch Sharkbay)
User Guide Viewer and Warranty Viewer
Preloaded Applications - 3rd party Applications – Only certain NLS preloads
Amazon Kindle Metro – Not PRC – V 1.1, Ebay – Metro – V 1.2, Intel AppUp Center – V 3.8
Lenovo Cloud Storage by SugarSync – V 1.9 – Not PRC
Lenovo Cloud Storage by SugarSync – Metro App – V1.3
Nitro Pro 8 for Windows 8.1 – V 8.5, Rara – Metro – V1.0, Skype™ - Not in CS
MS Office 2013 WW except JP, Absolute for Ultrabook™ – V2.3
AccuWeather – Metro – V 2.2, Evernote – Metro – V 1.1
Evernote Skitch – Metro – V 2.3, Dolby Home Theater,
Norton™ Internet Security 2014 – 30-day trial, Zinio
Norton™ Studio – Metro – V 1.2, Validity FMA, Express Cache
Nuance Dragon Assistant - limited language support, not in PRC
Connectivity
I/O (Input / Output ports)
2 x USB 3.0 (one Powered)
Audio/Mic Combo
OneLink Dock
Mini HDMI
4-in-1 card reader
VGA and RJ45 via OneLink Dock
WIMAX / WIFI
Intel Dual Band Wireless-11 AC 7260 2 x 2 + Bluetooth 4.0
Wireless WWAN
Gobi 5000 – LTE/EVDO/HSPA+ 42 Mbps NGFF M.2
Ethernet
Enable RJ45 using dongle or OneLink Dock
Bluetooth
Yes
* Non Vpro from Oct 2013
** Vpro added after Jan 2014
Pricing Notes:
Pricing and product availability subject to change without notice.
Lenovo Products
Lenovo ThinkPad Yoga
Lenovo ThinkPad Yoga Ultrabook/Tablet - 12.5" HD Touch"
- Intel Core i3 4010U 1.7GHz, 4GB Ram, 500GB/7200, 12.5" HD Touchscreen, Cam, BT, BL Key, Cache, 8 Cell, Win 8.1 Pro 64, 1 Year Depot
#20CD00CGUS
Our Price: $1,015.00
Lenovo ThinkPad Yoga Ultrabook/Tablet - 12.5" HD Touch"
- Intel Core i5 4200U 1.6GHz, 4GB Ram, 500GB/7200, 12.5" HD Touchscreen, Cam, BT, BL Key, Cache, 8 Cell, Win 8.1 Pro 64, 1 Year Depot
#20CD00CHUS
Our Price: $1,099.00
Lenovo ThinkPad Yoga Ultrabook/Tablet - 12.5" FHD Touch"
- Intel Core i5 4300U 1.9GHz, 4GB Ram, 500GB/7200, 12.5" FHD Touchscreen, Cam, BT, Digitizer Pen, Cache, Bk Lit Key, 8 Cell, Win 8.1 Pro 64, 1 Year Depot
#20CD00BXUS
Our Price: $1,266.00
Lenovo ThinkPad Yoga Ultrabook/Tablet - 12.5" FHD Touch"
- Intel Core i5 4300U 1.9GHz, 4GB Ram, 180 SSD, 12.5" FHD Touchscreen, Cam, BT, Digitizer Pen, Cache, Bk Lit Key, 8 Cell, Win 8.1 Pro 64, 1 Year Depot
#20CD00AVUS
Our Price: $1,345.00
Lenovo ThinkPad Yoga Ultrabook/Tablet - 12.5" FHD Touch"
- Intel Core i7 4600U 2.1GHz, 8GB Ram, 256 SSD , 12.5" FHD Touchscreen, Cam, BT, Digitizer Pen, Cache, Bk Lit Key, 8 Cell, Win 8.1 Pro 64, 1 Year Depot
#20CD00B1US
Our Price: $1,699.00