Lenovo ThinkStation P900 Tower Workstation

Extreme Power and Performance. A Next-Gen Workstation Built For Critical Tasks.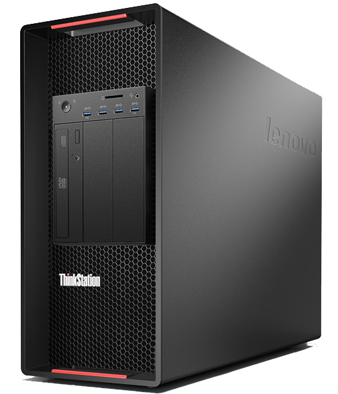 Lenovo Products
Lenovo ThinkStation P900 Tower Workstation
Lenovo ThinkStation P900 Mini Tower Workstation
- Intel Xeon E5-2650v3 2.3GHz (10 Cores), 16GB ECC, 256GB PCIe M.2, DVD-RW, No Graphics, Win 7 Pro 64, 3 Year Onsite
#30A5000TUS
Our Price: $3,329.00
Click here to jump to more pricing!
Overview:
Delivers extreme performance perfect for rendering & simulation. Features the most I/O in the industry, along with the highest storage capacity in the industry.
ThinkStation P900 delivers extreme performance with the most I/O in the industry, as well as the highest storage capacity. The innovative Flex Features allow you a new level of system-customization. Certified for all major ISV applications and perfect for rendering & simulation.
Customize a ThinkStation P900 for the performance you need, including the most I/O and highest storage capacity in the industry. Intelligent design features include new Flex Trays that hold up to two drives for total versatility and patented Tri-Channel Cooling for enhanced reliability.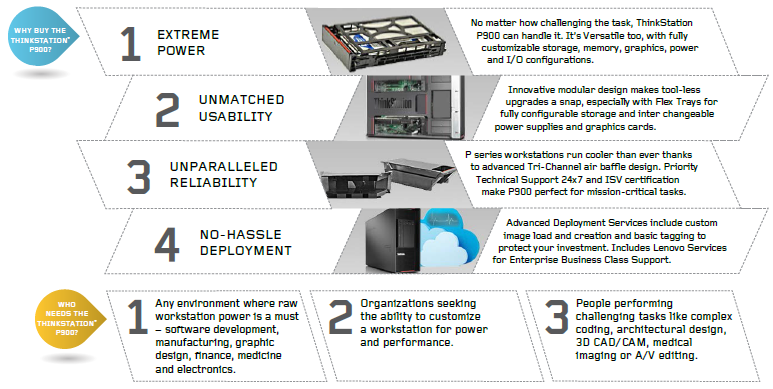 Features:
Thermal Design: Elegant & Efficient
Patented tri-channel cooling with just 3 system fans – as opposed to 10 that other workstations typically rely on — and a direct cooling air baffle directs fresh air into the CPU and memory. ThinkStation P900 delivers new technologies and design to keep your workstation cool and quiet.
Optional Flex Module
The innovative Flex Module lets you customize I/O ports, so you add only what you need. Using the 5.25" bays, you can mix and match components including an ultraslim ODD, 29-in-1 media card reader, Firewire, and eSATA.
Optional Flex Connector
The Flex Connector is a mezzanine card that fits into the motherboard and allows for expanded storage and I/O, without sacrificing the use of rear PCI. It supports SATA/SAS/PCIe advanced RAID solution. ThinkStation P900 includes two available connectors (enabled with each CPU).
Improved Design & Functionality
We've redesigned our ThinkStations. No more bulky handles, just a clean-looking, functional design. Integrated handles make it easier to carry and move they systems, or place into a rack.
ISV-Certification

ThinkStation P900 is certified to run key professional independent software vendor (ISV) applications, including Adobe, Autodesk, Dassault, PTC, SolidWorks, Avid, and Siemens. Additionally, this workstation includes error correcting code (ECC) memory, which drastically reduces the possibility of memory-related errors and critical data loss. 

Multiple Monitor Display

Maximize productivity with independent display support for up to three independent monitors using Mosaic Mode with integrated Intel graphics. Plus, connect to up to 16 independent monitors with 1.2 stream cloning mode.

Fast Data Transfer

With USB 3.0 ports, you can move data quickly between your workstation and other devices. SuperSpeed USB 3.0 enables file transfer up to 10 times faster than previous USB technologies, which allows for lightning-fast copying of large media files, as well as seamless connections between audio- and video-related devices. Backward-compatible with USB 2.0 devices.

Modular Components & Tool-Free Expandability

Innovative modular design makes tool-less upgrades a snap, especially with Flex Trays for fully configurable storage and interchangeable power supplies and graphics cards — especially beneficial when working with multiple workstations.

Unmatched Reliability

The ThinkStation P900 continues the long legacy of unmatched reliability touted by Lenovo single and dual processor workstations. It's built with the same efficient thermal design and employs a cooling process that makes ThinkStation workstations stand out from the competition.


ISV-Certification (monitor not included)
Green Leadership
ThinkStation P900 tower is GREENGUARD certified and features a fixed power supply unit (PSU) that's 1300W and up to 92% efficient.
Priority Technical Support
You demand a lot from your system and Lenovo Services help you stay productive. Bypass basic troubleshooting support with direct access to advanced-level technicians to resolve issues quickly. Add Priority Technical Support to your purchase.
Views:
Lenovo ThinkStation P900 Workstation (Click to enlarge)
| | | | |
| --- | --- | --- | --- |
| Workstation with Monitor (Tower) | Left Angle View | Optical Drive/Ports Zoom View | Front View |
| Rear View | Right Angle View | | |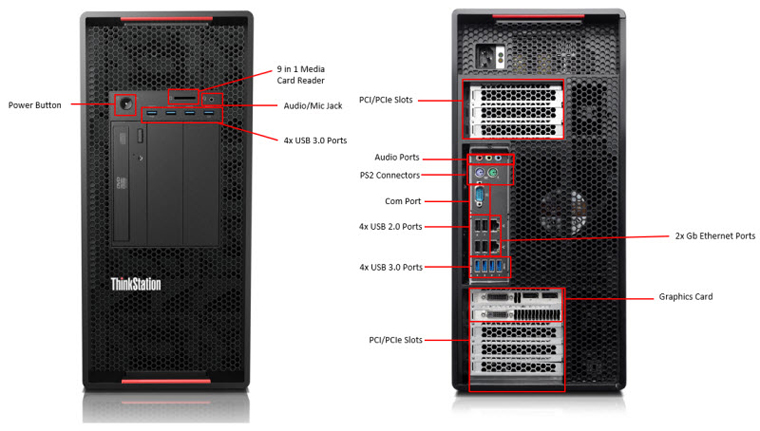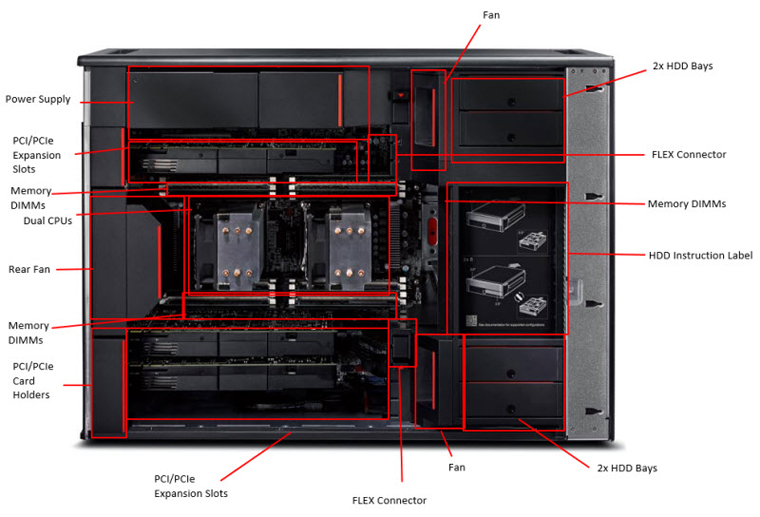 Specifications:
Lenovo ThinkStation P900 Workstation
Performance
Processor
Future Intel Xeon EP Processors
E5-1600 v3 and E5-2600 v3 family of processors
Operating System
Windows 8.1 Pro 64
Windows 7 Professional 64 preinstalled through downgrade rights in Windows 8.1 Pro 64
Graphics
Up to NVIDIA Quadro K6000 (DVI x 2, DP x 2) - 12GB GDDR5
Memory
16 DIMM slots, up to 2133 MHz
Storage
Max 3.5" = 6 (24TB)1
Max 2.5" = 10 (7.4TB)1
Max M.2 = 4 (1TB)1
Power supply
1300 W 92% Efficient
RAID
0, 1, 5, 10
Media Card Reader
Integrated 9-in-1 SD card reader
Optional 29:1
Flex Module
YES – up to 4 devices
(1) 9.5 mm Slim ODD
(29:1) MCR
1394 IEEE Firewire
eSATA
Design
Dimensions (W X D X H)
7.87" x 24.4" x 17.5"
Chip set
C612
Connectivity
Ports
(4) Rear 3.0
(4) Rear 2.0
(4) Front 3.0
2 x 1GBe ethernet
PS2
Expansion Slots
4 x PCIe x 16
2 x PCIe x 4 (open ended)
2 x PCIe x 1 (open ended)
2 x Flex Connector
Software
Windows 7 Preloads
Adobe Acrobat Reader
CyberLink Power DVD (on systems with Optical drives)
CyberLink Create(on systems with Optical drives)
Microsoft Office 2013 Trial
Norton Internet Security 2014 (30-day trial)
Skype™
ThinkVantage System Update
Rescue and Recovery (Ready-to-Install)
Lenovo Reach (only in US and Canada)
Lenovo Solution Center
PC Device Experience
Windows 8.1 Preloads
CyberLink Power DVD (on systems with Optical drives)
CyberLink Create (on systems with Optical drives)
Evernote
Lenovo Companion
Lenovo Support
Lenovo Solution Center
Norton Internet Security 2014 (30-day trial)
Password Manager (Web install)
PC Device Experience
Hightail
Lenovo Reach (only in US and Canada)
Norton Studio
Services Offerings
Lenovo offers a comprehensive portfolio of services to support and protect your ThinkCentre® Edge investment. Focus on your customers and business, not your IT.
Priority Technical Support*
Makes your priority, our priority. 24x7 priority call routing to advanced-level technicians, electronic incident tracking, and rapid response and resolution.
Warranty Upgrades – Onsite and Next Business Day
Maximizes PC uptime and productivity by providing convenient, fast repair service the next business day.
Warranty Extensions (1-to-4 Years Total Duration)
This fixed-term, fixed-cost service helps accurately budget for PC expenses, protect your valuable investment, and potentially lower the cost of ownership over time.
* Not available in all regions
Pricing Notes:
Pricing and product availability subject to change without notice.
Lenovo Products
Lenovo ThinkStation P900 Tower Workstation
Lenovo ThinkStation P900 Mini Tower Workstation
- Intel Xeon E5-2650v3 2.3GHz (10 Cores), 16GB ECC, 256GB PCIe M.2, DVD-RW, No Graphics, Win 7 Pro 64, 3 Year Onsite
#30A5000TUS
Our Price: $3,329.00